Questions from AVN about VR Porn
How mature is the VR adult market right now?
The adult VR market is very, very green, largely because the entire VR space is even greener. Honestly, if you're someone with a $.99 pair of Google Cardboard, you are an Early Adopter. Early majority? That on-ramp is miles down the road.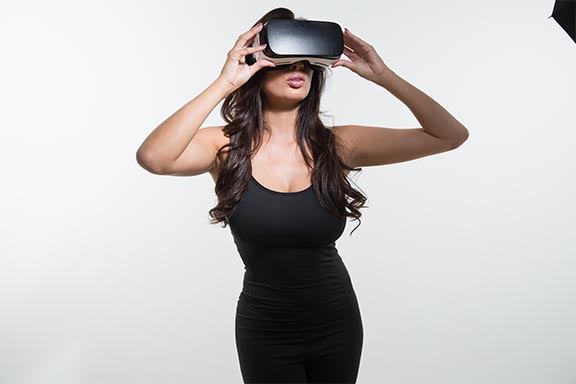 Is it ripe to be pursued vigorously by affiliates and content producers or are some other things needed before real growth will be possible?
Affiliates are definitely encouraged to begin promoting VR, but there's a huge caveat: you've got to educate the consumer to some extent before pushing them to a VR porn site. A banner that reads VR Porn: The Future is Now or VR Is Here: You'll Never Look at Smut the Same Way Again will not convert like a dating site or penis pill offer. It's just so early. Everybody reading this is on the cutting edge of technology, but the consumers, you can't even assume they know what VR stands for. You can't assume that they are even aware that virtual reality headsets exist. And there is also a marketing challenge that is intrinsic to VR, and this applies to any company pushing any VR-related product or solution to the consumer—whether adult-oriented or otherwise: it's impossible to understand how truly unique and different virtual reality is from 2D entertainment—or even 3D entertainment—without putting the headgear on. It's like trying to explain how delicious a calzone is to someone who's never tasted mozzarella cheese.
Much has been made about mainstream 'leading the way' when it comes to new technologies lately. Do you feel adult VR is ahead or behind the offerings made by mainstream companies? What are some of the things you think adult is doing better, or mainstream has done better so far?
Adult is leading in VR. There's no denying it. Adult is The Killer App for VR, hands down. I joke all the time that Palmer Luckey ought to be sending us 10% of net on every sale of the Rift. Adult is not only leading, it's creating demand, passion, enthusiasm, interest. Gaming will one day leapfrog over us, and carry that Killer App torch, but right now, games in VR are anemic. There's no VR game out there that's as dense, addictive and immersive as bestsellers like Grand Theft Auto and Call of Duty. They're not even in the same league. And that's because games like GTA cost a fortune to develop. And there's just not enough of those early adopters yet to make the business case.
On the other hand, when you watch a VR porn movie, the difference between VR porn and non-VR porn, it's striking, stark. There's nothing subtle about it. Some will argue that all VR porn is the same, that it's all POV, and because it's all POV, that it's destined to ultimately bore the end user once that wow factor runs threadbare. I get it. However, that's what the consumer wants right now. That's what they tell us on Reddit. That's what they tell us in our Feedback Forum. And when they're sick of POV, we'll be ready. And we'll know the minute they are sick of it because these are very, very vocal subscribers.
That also underscores a salient point, relative to the reasons adult is leading. That engagement we have, that we all have, with the end-user, it's hugely valuable and unique. We're all operating walled gardens. Members stick around for months. So as we evolve and innovate, we're afforded an ongoing dialog. Not only do we know what 'BaDoinkVR Member A' thought of 'VR Video 32' three months ago, we know what 'Member A' thought of 'VR Video 50' in April. Nobody outside of adult has that, and since the Virtual Reality space is so embryonic, it's a boon to everyone involved.
What are some of the unique advantages of your VR offerings compared to what else is out there? Any specific technological advancements, wrinkles in your UI/UX, marketing methods or content that you are especially proud of right now?
Our videos keep getting better, and our goal is to keep making them better. I think they're the best in the biz, but obviously, I'm biased. Our achievements on the content front have as much to do with determination as they do with having a kickass production team. With VR, there is no instruction manual; it's learning while doing. I could ask my content manager to create a Dummies guide to shooting stereoscopic 3D VR, and if you were coming to it cold, you'd be hard-pressed to pull it off in a way that would satisfy the consumer. Hell, if she gave me that Dummies guide, I'd be in the same boat. It takes a lot of time, a lot of hands-on experimentation to make it work.
From a tech perspective, I'm certainly proud of our native app players in the App Store and Google Play, as well as our Oculus Player; likewise, our mobile web player is exciting to the utmost.
From a marketing perspective, I'm proud of all of the media attention we've received over the last year. It's been a real thrill. And the collaboration we launched with PornHub in March—definitely a tremendous achievement we're all very proud of.
What is in the pipeline for the next 18 months? Any technological advancements, content creations, site launches or other aspects of your VR offerings that consumers, affiliates and others should get excited about?
We've got numerous tech and content-oriented initiatives lined up, but the overwhelming majority are things I wouldn't want to talk about without having all of your readers sign an NDA. We're going to support Kiiroo's Onyx, so our members are afforded another piece of the telepresence puzzle. Video and audio are just two senses, after all. If one's aim is to offer the end-user a truly immersive experience, you've got to hit all five. As well, we're creating a Sex Therapy experience—and bringing on board a proper sex therapist for it. The goal: Use VR to help people become better, more attentive lovers.
Name 3 things that would make VR porn better right now. Realistic advancements that you think are on the horizon? Better goggles, players, streaming throughput, cameras… the 3 things you would love to see solved next.
The camera options are exceedingly limited. Products like Nokia's Ozo get a lot of headlines, but it just doesn't work for porn, least of all because the Ozo only shoots 30FPS. Oculus Rift is impressive. HTC Vive is amazing. But what I want to see is Apple's solution; I want to see more Gear VR competitors. Huawei just announced that they're throwing a hat in that ring. So more of that would be great. Anything that keys consumer uptake, that's what it's all about, not just for VR porn, but VR everything and anything. And of course, I want to see the HMDs get better, get to a point where the screen door effect is gone, and where you're not feeling silly because you're essentially wearing ski goggles in the living room. On the tech side, I'm super-excited about foveated rendering, and the possibilities that presents. Once that's firmly in place, demands on processing power drop, and that makes everything more affordable for the end user.