PhoneDog Sizes up Virtual Reality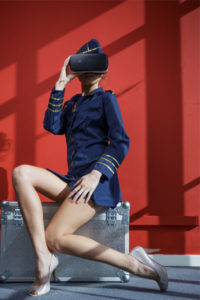 Anna Scantlin (@PhoneDog_Anna) penned this post for mobile tech journal PhoneDog.com. In it she reviews the Gear VR headset, and then sizes up, more broadly, the larger  Virtual Reality space.
She compares setting up Samsung's mid-range device to the experience of readying to use Google Cardboard, and then describes the experience of playing horror games in VR.
Scantlin's opinion? Downright scary. And she admits to being a person who is no stranger to horror games. I must experience one of these horror programs myself. Everyone describes them as powerful, immersive, and frequently, too horrifying.
Parenthetically, I've come across horror genre junkies who've tried horror in VR and view the heightened level of fear these programs precipitate in the pejorative, as if they reach a level of intensity that goes too far, is "unnatural."
She also expressed satisfaction with less incendiary VR experiences like Ocean Rift and Star Chart.
However, in summary, Scantlin refers to virtual reality as a novelty, at least, for the time being. This observation, somewhat widespread, may get many a VR champion's dander up, but it shouldn't.  We are, and will be for some time, "wicked 1.0." My only criticism of this post? She overlooks the impending widening of the mid-range headset field. Oculus Home and Gear VR already have a competitor in Google's Daydream and Daydream View. Prices should drop.
As for her criticism of the bulky form these HMDs manifest? Impossible to argue with, and we've just got to wait. The day will come when strapping on an HMD doesn't make one look or feel like he or she is wearing ski goggles in the living room–but not soon enough.